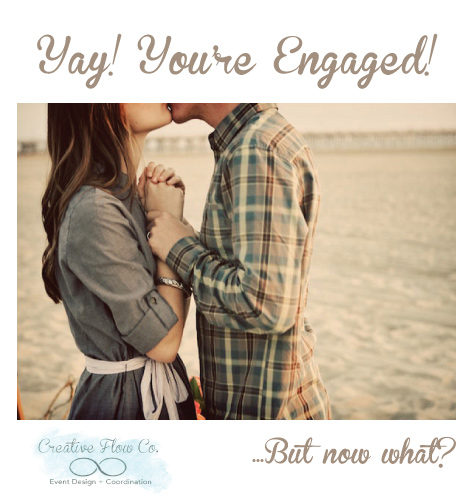 Top 10 To Do's Once You Get Engaged!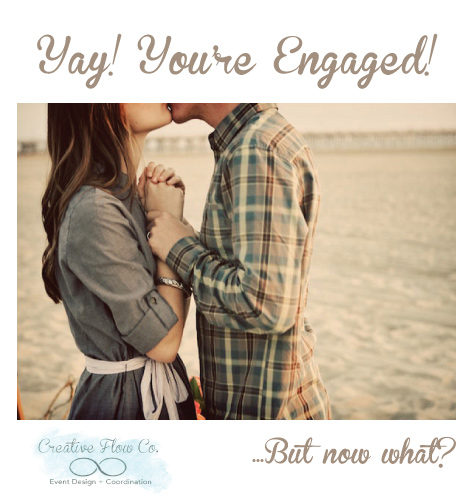 Okay, the day you've been waiting for came and it was everything you hoped for! Your partner got down on one knee and popped the question. There were tears of joy, lots of laughter and a minor state of shock as the exciting news settled in. But now there is that lingering question, "where do we go from here?" We hear it all the time. Which is why we put together this list to help ya out a bit!
1. Call The Fam. This totally qualifies as news that you should pick up the phone for. I know, we're so comfortable sending texts and pics that even our grandparents are walking around with smart phones, but this is one of those things that people will want to hear straight from the source. Mom and Dad should be first on the list followed by siblings, extended family and friends that are like family. Announce It To The World via social media should be last. Find a fun way to reach everyone all at once.
2. Get Your Ring Appraised and Insured. Don't overlook this one peeps. It's MAJOR! You have something that is not only valuable, but extremely sentimental sitting on your finger. Something you're definitely not used to having around and hey – anything can happen! Which is why it's important to do it early. We found an article with great info on appraisals and insurance on The KNOT.
3. Get A Mani. Your left hand is going to be the center of attention for the next few weeks and you want to feel confident showing off your new statement piece. Make sure your nails are in tip-top shape and ready to show off!
4. Set A Timeframe. Be prepared for all of the wedding planning questions to pour in. It's best to not get too overwhelmed and create a "canned response" to dish out anytime you get hit with a Q&A session. If it's too soon for you to even think about a "when" or "where", how about tying down a season or year that you would like to tie the knot? It's also doesn't hurt to perfect the proposal story as everyone will want to hear the juicy deets.
5. Set A Budget. Ish just got real. Expenses can add up quick and now is the best time to decide exactly where your budget stands and if you'll be paying for this soiree on your own, or with the help of others. I don't suggest you begin any planning without having an in-depth convo with your fiance on how much the both of your are comfortable spending. The last thing you want to do, is put yourself in debt.
6. Give Your Guest List A Go. Determine your guest list early. Make a list of "Must Haves", "Maybes", and "Not So Much's" to give yourself a real idea of how many guests you'll have in attendance. This is info is crucial when choosing a venue, a caterer, rentals and so on.
7. Host An Engagement Party. A lot of the time, someone will most likely host this for you but it's a great way to celebrate with your loved ones this new journey you're about to set on. *See #3 & #4 and be ready to answer some serious planning questions!*
8. Get Inspired. In this day and age, wedding inspiration is practically pouring out of our ears. With Instagram and Pinterest and blogs like Style Me Pretty and Utterly Engaged it's easy to get bombarded with so many different style weddings and be left confused after a simple google search. I suggest creating a system to help keep your ideas organized. Buy a big binder and begin printing out inspiration pics of things you love. Seeing all of your ideas together will help you tie die the style or theme of your wedding. Buying magazines is also a great alternative and makes for some really good wedding prep reads.
9. Hire A Planner. This step is something you should think long and hard about. Why should planning your big day be stressful? Bring in a professional to handle all aspects of planning process so you can sit back, relax and enjoy this exciting time. Creative Flow Company's approach is simple. We begin with you in mind. We take your ideas, dreams and visions and transform them into the stylish soiree you've been dreaming of! We also assist with choosing the perfect wedding industry professionals to collaborate with ensuring your that wedding will be flawless. We'll have another post soon with info on how to hire the perfect wedding planner!
10. Location. Location. LOCATION. This by far, is one of the most important decisions you'll make during the planning process. If you've already hired a wedding planner, you're ahead of the game! A Planner can help you find and lock down the perfect location to host your big day all while staying within your budget. Creative Flow Company has worked at most of the leading Northern California Wedding venues and has an extensive list of contacts and relationships with them all!
Welp, Congratulations again! We hope this list gives you a little insight on what's to come for you in the next few months! Always remember to relax and show gratitude for all that you have!
xoxo,
Cynthia